The Hugo Award nominees were announced in March, and interested readers of science fiction and fantasy can find information about each of the nominations in each of the categories HERE and in many reviews and commentaries across the internet and other media. The Hugo Awards are trademarked by the World Science Fiction Society, an unincorporated literary society that sponsors the annual World Science Fiction Convention and the Hugo Awards. You can find out more about each HERE.
Below are each nominated novel's cover and blurb as it appears on Goodreads. They appear in the order they are listed on the Hugo Awards announcement page. Clicking on the image of each cover will take you to the Goodreads page for the novel. (Goodreads is a site for readers and book recommendations. It's stated mission is to "help people find and share books they love.") From there, you can find links to each author's other works, as well as buy links to many major outlets. These books are available in multiple formats, including hardback, softback, e-book, and audio.
I have not read all of these yet, but I look forward to finishing the list. It appears to be a great collection. This year's slate leans in the SF direction rather than Fantasy. Follow the links, explore the works.
The Collapsing Empire, John Scalzi
(Tor Books 2017)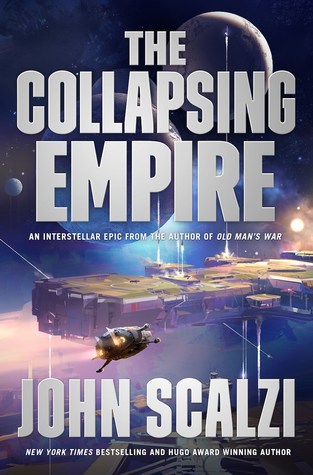 The first novel of a new space-opera sequence set in an all-new universe by the Hugo Award-winning, New York Times-bestselling author of Redshirts and Old Man's War.
Our universe is ruled by physics and faster than light travel is not possible — until the discovery of The Flow, an extra-dimensional field we can access at certain points in space-time that transport us to other worlds, around other stars.
Humanity flows away from Earth, into space, and in time forgets our home world and creates a new empire, the Interdependency, whose ethos requires that no one human outpost can survive without the others. It's a hedge against interstellar war — and a system of control for the rulers of the empire.
The Flow is eternal — but it is not static. Just as a river changes course, The Flow changes as well, cutting off worlds from the rest of humanity. When it's discovered that The Flow is moving, possibly cutting off all human worlds from faster than light travel forever, three individuals — a scientist, a starship captain and the Empress of the Interdependency — are in a race against time to discover what, if anything, can be salvaged from an interstellar empire on the brink of collapse.
New York 2140, Kim Stanley Robinson
(Orbit 2017)
It is 2140.
The waters rose, submerging New York City.
But the residents adapted and it remained the bustling, vibrant metropolis it had always been. Though changed forever.
Every street became a canal. Every skyscraper an island.
Through the eyes of the varied inhabitants of one building, Kim Stanley Robinson shows us how one of our great cities will change with the rising tides.
And how we too will change.
Provenance, Ann Leckie
(Orbit 2017)
Following her record-breaking debut trilogy, Ann Leckie, winner of the Hugo, Nebula, Arthur C. Clarke and Locus Awards, returns with an enthralling new novel of power, theft, privilege and birthright.
A power-driven young woman has just one chance to secure the status she craves and regain priceless lost artifacts prized by her people. She must free their thief from a prison planet from which no one has ever returned.
Ingray and her charge will return to her home world to find their planet in political turmoil, at the heart of an escalating interstellar conflict. Together, they must make a new plan to salvage Ingray's future, her family, and her world, before they are lost to her for good.
Raven Stratagem, Yoon Ha Lee
(Solaris 2017)
War. Heresy. Madness.
Shuos Jedao is unleashed. The long-dead general, preserved with exotic technologies and resurrected by the hexarchate to put down a heretical insurrection, has possessed the body of gifted young captain Kel Cheris.
Now, General Kel Khiruev's fleet, racing to the Severed March to stop a fresh incursion by the enemy Hafn, has fallen under Jedao's sway. Only Khiruev's aide, Lieutenant Colonel Kel Brezan, appears able to shake off the influence of the brilliant but psychotic Jedao.
The rogue general seems intent on defending the hexarchate, but can Khiruev – or Brezan – trust him? For that matter, can they trust Kel Command, or will their own rulers wipe out the whole swarm to destroy one man?
Yoon Ha Lee's critically acclaimed Machineries of Empire trilogy continues with Raven Stratagem, coming from Solaris Summer 2017.
Six Wakes, by Mur Lafferty
(Orbit 2017)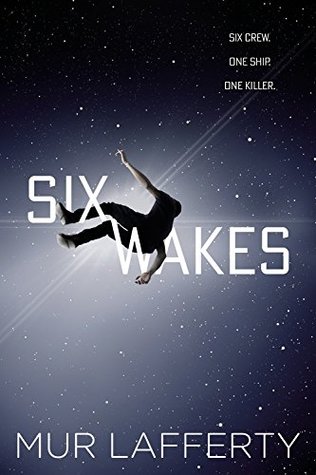 A space adventure set on a lone ship where the clones of a murdered crew must find their murderer — before they kill again.
It was not common to awaken in a cloning vat streaked with drying blood.
At least, Maria Arena had never experienced it. She had no memory of how she died. That was also new; before, when she had awakened as a new clone, her first memory was of how she died.
Maria's vat was in the front of six vats, each one holding the clone of a crew member of the starship Dormire, each clone waiting for its previous incarnation to die so it could awaken. And Maria wasn't the only one to die recently…
The Stone Sky, by N.K. Jemisin
(Orbit 2017)
THIS IS THE WAY THE WORLD ENDS… FOR THE LAST TIME.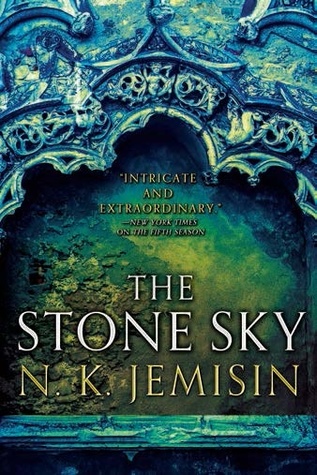 The Moon will soon return. Whether this heralds the destruction of humankind or something worse will depend on two women.
Essun has inherited the power of Alabaster Tenring. With it, she hopes to find her daughter Nassun and forge a world in which every orogene child can grow up safe.
For Nassun, her mother's mastery of the Obelisk Gate comes too late. She has seen the evil of the world, and accepted what her mother will not admit: that sometimes what is corrupt cannot be cleansed, only destroyed.
The remarkable conclusion to the post-apocalyptic and highly acclaimed trilogy that began with the multi-award-nominated The Fifth Season.