May 1, 2014, New York, NY:  Mystery Writers of America has announced the winners of the 2014 Edgar Allan Poe Awards, honoring the best in mystery fiction, non-fiction and television published or produced in 2013. The Edgar® Awards were presented to the winners at MWA's 68th Gala Banquet, May 1, 2014 at the Grand Hyatt Hotel, New York City. Among others, the awards went to these outstanding stories:
BEST NOVEL
Ordinary Grace by William Kent Krueger (Simon & Schuster – Atria Books)
New Bremen, Minnesota, 1961. The Twins were playing their debut season, ice-cold root beers were at the ready at Halderson's Drug Store soda counter, and Hot Stuff comic books were a mainstay on every barbershop magazine rack. It was a time of innocence and hope for a country with a new, young president. But for thirteen-year-old Frank Drum it was a summer in which death assumed many forms.

When tragedy unexpectedly comes to call on his family, which includes his Methodist minister father, his passionate, artistic mother, Juilliard-bound older sister, and wise-beyond-his years kid brother, Frank finds himself thrust into an adult world full of secrets, lies, adultery, and betrayal.

On the surface, Ordinary Grace is the story of the murder of a beautiful young woman, a beloved daughter and sister. At heart, it's the story of what that tragedy does to a boy, his family, and ultimately the fabric of the small town in which he lives. Told from Frank's perspective forty years after that fateful summer, it is a moving account of a boy standing at the door of his young manhood, trying to understand a world that seems to be falling apart around him. It is an unforgettable novel about discovering the terrible price of wisdom and the enduring grace of God.
BEST FIRST NOVEL BY AN AMERICAN AUTHOR
Red Sparrow by Jason Matthews (Simon & Schuster – Scribner)
In today's Russia, dominated by Prime Minister Vladimir Putin, state intelligence officer Dominika Egorova struggles to survive in the cast-iron bureaucracy of post-Soviet intelligence. Drafted against her will to become a "Sparrow," a trained seductress in the service, Dominika is assigned to operate against Nathaniel Nash, a first-tour CIA officer who handles the CIA's most sensitive penetration of Russian intelligence. The two young intelligence officers, trained in their respective spy schools, collide in a charged atmosphere of tradecraft, deception, and inevitably, a forbidden spiral of carnal attraction that threatens their careers and the security of America's valuable mole in Moscow. Seeking revenge against her soulless masters, Dominika begins a fatal double life, recruited by the CIA to ferret out a high-level traitor in Washington; hunt down a Russian illegal buried deep in the U.S. military and, against all odds, to return to Moscow as the new-generation penetration of Putin's intelligence service. Dominika and Nathaniel's impossible love affair and twisted spy game come to a deadly conclusion in the shocking climax of this electrifying, up-to-the minute spy thriller.
BEST PAPERBACK ORIGINAL
The Wicked Girls by Alex Marwood (Penguin Group USA – Penguin Books)
One fateful summer morning in 1986, two 11-year-old girls meet for the first time and by the end of the day are charged with murder.

Twenty-five years later, journalist Kirsty Lindsay is reporting on a series of attacks on young female tourists in a seaside town when her investigation leads her to interview funfair cleaner Amber Gordon. For Kirsty and Amber, it's the first time they've seen each other since that dark day when they were just children. But with new lives – and families – to protect, will they really be able to keep their secret hidden?
BEST FACT CRIME
The Hour of Peril: The Secret Plot to Murder Lincoln Before the Civil War by Daniel Stashower (Minotaur Books)
Daniel Stashower, the two-time Edgar award–winning author of The Beautiful Cigar Girl, uncovers the riveting true story of the "Baltimore Plot," an audacious conspiracy to assassinate Abraham Lincoln on the eve of the Civil War in THE HOUR OF PERIL.

In February of 1861, just days before he assumed the presidency, Abraham Lincoln faced a "clear and fully-matured" threat of assassination as he traveled by train from Springfield to Washington for his inauguration. Over a period of thirteen days the legendary detective Allan Pinkerton worked feverishly to detect and thwart the plot, assisted by a captivating young widow named Kate Warne, America's first female private eye.

As Lincoln's train rolled inexorably toward "the seat of danger," Pinkerton struggled to unravel the ever-changing details of the murder plot, even as he contended with the intractability of Lincoln and his advisors, who refused to believe that the danger was real. With time running out Pinkerton took a desperate gamble, staking Lincoln's life—and the future of the nation—on a "perilous feint" that seemed to offer the only chance that Lincoln would survive to become president.  Shrouded in secrecy—and, later, mired in controversy—the story of the "Baltimore Plot" is one of the great untold tales of the Civil War era, and Stashower has crafted this spellbinding historical narrative with the pace and urgency of a race-against-the-clock thriller.
BEST CRITICAL/BIOGRAPHICAL
America is Elsewhere: The Noir Tradition in the Age of Consumer Culture by Erik Dussere (Oxford University Press)
America is Elsewhere provides a rigorous and creative reconsideration of hard-boiled crime fiction and the film noir tradition within three related postwar contexts: 1) the rise of the consumer republic in the United States after World War II 2) the challenge to traditional notions of masculinity posed by a new form of citizenship based in consumption, and 3) the simultaneous creation of "authenticity effects" — representational strategies designed to safeguard an image of both the American male and America itself outside of and in opposition to the increasingly omnipresent marketplace. Films like Double Indemnity, Ace in the Hole, and Kiss Me Deadly alongside novels by Dashiel Hammett and Raymond Chandler provide rich examples for the first half of the study. The second is largely devoted to works less commonly understood in relation to the hard-boiled and noir canon. Examinations of the conspiracy films from the Seventies and Eighties — like Klute and The Parallax View — novels by Thomas Pynchon, Chester Himes and William Gibson reveal the persistence and evolution of these authenticity effects across the second half of the American twentieth century.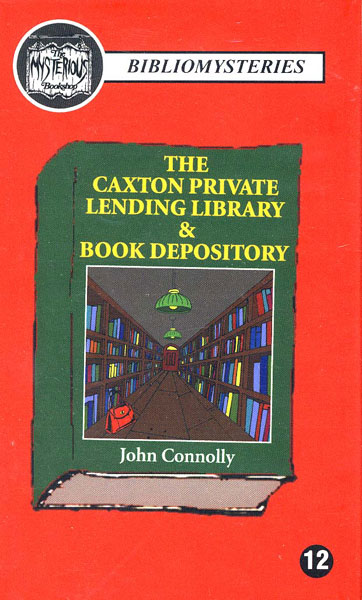 BEST SHORT STORY
"The Caxton Private Lending Library & Book Depository" – Bibliomysteries by John Connolly (Mysterious Bookshop)
Mr. Berger has spent 34 years keeping his life as empty as possible. His job title as a 'Closed Accounts Registrar' doesn't spark much interest, and his cautious flirtation with a woman at his company was cut short upon her engagement to another man. This doesn't bother him, however, as he much prefers the company of books to that of people. When a series of fortunate events leads to an early retirement in the English countryside, Mr. Berger is content to spend the remainder of his years nestled comfortably between the pages of a book. But fate has other plans. His serene life is rendered strange when he witnesses a tragedy chillingly reminiscent of Anna Karenina as a woman flings herself before a train. When he rushes to the scene, she has vanished, leaving no body on the tracks. Berger's investigation into this event leads him The Caxton Private Lending Library & Book Depository, where the line between fiction and reality becomes blurred beyond comprehension.
BEST JUVENILE
One Came Home by Amy Timberlake (Random House Children's Books – Alfred A. Knopf BFYR)
In the town of Placid, Wisconsin, in 1871, Georgie Burkhardt is known for two things: her uncanny aim with a rifle and her habit of speaking her mind plainly.

But when Georgie blurts out something she shouldn't, her older sister Agatha flees, running off with a pack of "pigeoners" trailing the passenger pigeon migration. And when the sheriff returns to town with an unidentifiable body—wearing Agatha's blue-green ball gown—everyone assumes the worst. Except Georgie. Refusing to believe the facts that are laid down (and coffined) before her, Georgie sets out on a journey to find her sister. She will track every last clue and shred of evidence to bring Agatha home. Yet even with resolute determination and her trusty Springfield single-shot, Georgie is not prepared for what she faces on the western frontier.
BEST YOUNG ADULT
Ketchup Clouds by Annabel Pitcher (Hachette Book Group – Little, Brown Books for Young Readers)
Secrets, romance, murder and lies: Zoe shares a terrible secret in a letter to a stranger on death row in this second novel from the author of the bestselling debut, My Sister Lives on the Mantelpiece.

Fifteen-year-old Zoe has a secret—a dark and terrible secret that she can't confess to anyone she knows. But then one day she hears of a criminal, Stuart Harris, locked up on death row in Texas. Like Zoe, Stuart is no stranger to secrets. Or lies. Or murder.

Full of heartache yet humour, Zoe tells her story in the only way she can—in letters to the man in prison in America. Armed with a pen, Zoe takes a deep breath, eats a jam sandwich, and begins her tale of love and betrayal.
Related articles