Mystery Writers of America has announced the winners of the 2015 Edgar Allan Poe Awards, honoring the best in mystery fiction, non-fiction and television published or produced in 2014. The Edgar® Awards were presented to the winners at MWA's 69th Gala Banquet, April 29, 2015 at the Grand Hyatt Hotel, New York City.
The winners are:
BEST NOVEL
Mr. Mercedes by Stephen King (Simon & Schuster – Scribner)
In the frigid pre-dawn hours, in a distressed Midwestern city, hundreds of desperate unemployed folks are lined up for a spot at a job fair. Without warning, a lone driver plows through the crowd in a stolen Mercedes, running over the innocent, backing up, and charging again. Eight people are killed; fifteen are wounded. The killer escapes.
In another part of town, months later, a retired cop named Bill Hodges is still haunted by the unsolved crime. When he gets a crazed letter from someone who self-identifies as the "perk" and threatens an even more diabolical attack, Hodges wakes up from his depressed and vacant retirement, hell-bent on preventing another tragedy.
Brady Hartfield lives with his alcoholic mother in the house where he was born. He loved the feel of death under the wheels of the Mercedes, and he wants that rush again.
Only Bill Hodges, with a couple of highly unlikely allies, can apprehend the killer before he strikes again. And they have no time to lose, because Brady's next mission, if it succeeds, will kill or maim thousands.
BEST FIRST NOVEL BY AN AMERICAN AUTHOR
Dry Bones in the Valley by Tom Bouman (W.W. Norton)
In Wild Thyme, Pennsylvania, secrets and feuds go back generations. The lone policeman in a small township on the sparse northern border, Henry Farrell expected to spend his mornings hunting and fishing, his evenings playing old-time music. Instead, he has watched the steady encroachment of gas drilling bring new wealth and erode neighborly trust. The drug trade is pushing heroin into the territory. There are outlaws cooking meth in the woods, guys Henry grew up with. When a stranger turns up dead, Henry s search for the killer will open old wounds, dredge up ancient crimes, and exact a deadly price. With vivid characters and flawless pacing, Tom Bouman immerses readers in rural northeastern Pennsylvania, a region in the grip of change. In these derelict woods full of whitetail deer and history, the hunt is on."
BEST PAPERBACK ORIGINAL
The Secret History of Las Vegas by Chris Abani (Penguin Random House – Penguin Books)
Before he can retire, Las Vegas detective Salazar is determined to solve a recent spate of murders. When he encounters a pair of conjoined twins with a container of blood near their car, he's sure he has apprehended the killers, and enlists the help of Dr. Sunil Singh, a South African transplant who specializes in the study of psychopaths. As Sunil tries to crack the twins, the implications of his research grow darker. Haunted by his betrayal of loved ones back home during apartheid, he seeks solace in the love of Asia, a prostitute with hopes of escaping that life. But Sunil's own troubled past is fast on his heels in the form of a would-be assassin.
Suspenseful through the last page, The Secret History of Las Vegas is Chris Abani's most accomplished work to date, with his trademark visionary prose and a striking compassion for the inner lives of outsiders.
BEST FACT CRIME
Tinseltown: Murder, Morphine, and Madness at the Dawn of Hollywood
by William J. Mann (HarperCollins Publishers – Harper)
By 1920, the movies had suddenly become America's new favorite pastime, and one of the nation's largest industries. Never before had a medium possessed such power to influence. Yet Hollywood's glittering ascendency was threatened by a string of headline-grabbing tragedies—including the murder of William Desmond Taylor, the popular president of the Motion Picture Directors Association, a legendary crime that has remained unsolved until now.
In a fiendishly involving narrative, bestselling Hollywood chronicler William J. Mann draws on a rich host of sources, including recently released FBI files, to unpack the story of the enigmatic Taylor and the diverse cast that surrounded him—including three beautiful, ambitious actresses; a grasping stage mother; a devoted valet; and a gang of two-bit thugs, any of whom might have fired the fatal bullet. And overseeing this entire landscape of intrigue was Adolph Zukor, the brilliant and ruthless founder of Paramount, locked in a struggle for control of the industry and desperate to conceal the truth about the crime. Along the way, Mann brings to life Los Angeles in the Roaring Twenties: a sparkling yet schizophrenic town filled with party girls, drug dealers, religious zealots, newly-minted legends and starlets already past their prime—a dangerous place where the powerful could still run afoul of the desperate.
BEST CRITICAL/BIOGRAPHICAL
Poe-Land: The Hallowed Haunts of Edgar Allan Poe
by J.W. Ocker (W.W. Norton – Countryman Press)
Edgar Allan Poe was an oddity: his life, literature, and legacy are all, well, odd. In Poe-Land, J. W. Ocker explores the physical aspects of Poe s legacy across the East Coast and beyond, touring Poe s homes, examining artifacts from his life locks of his hair, pieces of his coffin, original manuscripts, his boyhood bed and visiting the many memorials dedicated to him.
Along the way, Ocker meets people from a range of backgrounds and professions actors, museum managers, collectors, historians who have dedicated some part of their lives to Poe and his legacy. Poe-Land is a unique travelogue of the afterlife of the poet who invented detective fiction, advanced the emerging genre of science fiction, and elevated the horror genre with a mastery over the macabre that is arguably still unrivaled today."
BEST SHORT STORY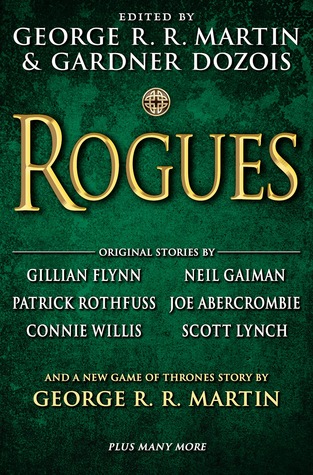 "What Do You Do?" – Rogues by Gillian Flynn
(Penguin Random House Publishing – Bantam Books)
A nameless sex worker and fortune teller begins cleansing a women's house under request but soon comes to believe she is in way over her head.
About the anthology: Follow along with the likes of Gillian Flynn, Joe Abercrombie, Neil Gaiman, Patrick Rothfuss, Scott Lynch, Cherie Priest, Garth Nix, and Connie Willis, as well as other masters of literary sleight-of-hand, in this rogues gallery of stories that will plunder your heart—and yet leave you all the richer for it.
About the author: Gillian Schieber Flynn is an American author, screenwriter, comic book writer and former television critic for Entertainment Weekly. Flynn's three published novels are the thrillers Sharp Objects, Dark Places, and Gone Girl.
BEST JUVENILE
Greenglass House by Kate Milford
(Clarion Books – Houghton Mifflin Harcourt Books for Young Readers)
A rambling old inn, a strange map, an attic packed with treasures, squabbling guests, theft, friendship, and an unusual haunting mark this smart middle grade mystery in the tradition of the Mysterious Benedict Society books and Blue Balliet's Chasing Vermeer series.
It's wintertime at Greenglass House. The creaky smuggler's inn is always quiet during this season, and twelve-year-old Milo, the innkeepers' adopted son, plans to spend his holidays relaxing. But on the first icy night of vacation, out of nowhere, the guest bell rings. Then rings again. And again. Soon Milo's home is bursting with odd, secretive guests, each one bearing a strange story that is somehow connected to the rambling old house. As objects go missing and tempers flare, Milo and Meddy, the cook's daughter, must decipher clues and untangle the web of deepening mysteries to discover the truth about Greenglass House-and themselves.
BEST YOUNG ADULT
The Art of Secrets by James Klise (Algonquin Young Readers)
A Fire Destroys . . .
A Treasure Appears . . .
A Crime Unfolds . . .
When Saba Khan's apartment burns in a mysterious fire, possibly a hate crime, her Chicago high school rallies around her. Her family moves rent-free into a luxury apartment, Saba's Facebook page explodes, and she starts (secretly) dating a popular boy. Then a quirky piece of art donated to a school fund-raising effort for the Khans is revealed to be an unknown work by a famous artist, worth hundreds of thousands of dollars, and Saba's life turns upside down again. Should Saba's family have all that money? Or should it go to the students who found the art? Or to the school? And just what caused that fire? Greed, jealousy, and suspicion create an increasingly tangled web as students and teachers alike debate who should get the money and begin to point fingers and make accusations. The true story of the fire that sets events in motion and what happens afterward gradually comes together in an innovative narrative made up of journal entries, interviews, articles, letters, text messages, and other documents.
BEST TELEVISION EPISODE TELEPLAY
"Episode 1" – Happy Valley, Teleplay by Sally Wainwright (Netflix)
Sergeant Cawood's world stops when the man who drove her daughter to suicide is released from prison, and Kevin's split-second decision devastates Nevison.
Happy Valley is a British drama television series, written by Sally Wainwright and directed by Euros Lyn, Sally Wainwright and Tim Fywell, that debuted on BBC One April 29, 2014. BBC One producers confirmed the renewal of the series in August 2014.
Sally Wainwright is a British BAFTA winning television writer and playwright. She won the 2009 Writer of the Year Award given by the RTS in 2009 for Unforgiven.
ROBERT L. FISH MEMORIAL AWARD
"Getaway Girl" – Ellery Queen Mystery Magazine By Zoë Z. Dean (Dell Magazines)
Zoë Z. Dean (a pseudonym for Kentucky writer Lauren James) debuted in Ellery Queen Mystery Magazine's Department of First Stories in November 2014 with the story "Getaway Girl."
A lifelong mystery fan, Dean once sought work in a private investigator's office. "Getaway Girl" has distinct noir aspects. In this post with Janet Hutchings (editor of EQMM since 1991), Dean talks about a writer from that tradition that had an early influence on her. (Spoiler alert: Endings are discussed in the linked post.)
EQMM is the world's longest running short mystery fiction magazine.  Founded in 1941, it remains available in print and has expanded to include electronic formats. A complete history of EQMM can be found on its website, including a list of its many awards.
GRAND MASTER
Lois Duncan
Lois Duncan grew up in Sarasota, Florida, the daughter of internationally known magazine photographers, Joseph and Lois Steinmetz. She has one younger brother.  From early childhood, she knew she wanted to be a writer. She submitted her first story to a magazine at the age of ten and made her first sale at thirteen to a magazine called Calling All Girls. Throughout her high school years she wrote regularly for young people's magazines, particularly Seventeen. Lois is also the author of 48 books, ranging from children's picture books to adult novels, but she is best known for her young adult suspense novels. Many of those have been chosen as American Library Association "Best Books for Young Adults" and Jr. Literary Guild Selections, and they have won Young Readers Awards in 16 states and three foreign countries. In 1992, Lois received the Margaret A. Edwards Award, presented by the School Library Journal and the Young Adult Library Services Association, to honor a living author for a distinguished body of adolescent literature.
James Ellroy
James Ellroy was born in Los Angeles in 1948. His L.A. Quartet novels— The Black Dahlia, The Big Nowhere, L.A. Confidential, and White Jazz—have won numerous awards and are international bestsellers. His novel American Tabloid was Time magazine's Novel of the Year for 1995; his memoir, My Dark Places, was a Time Best Book and a New York Times Notable Book for 1997. His novel The Cold Six Thousandwas a New York Times Notable Book in 2001. His most recent novel,Perfidia, published in September 2014, is the first book in his Second L.A. Quartet. The design of this series is unprecedented. Ellroy takes characters from the original L.A. Quartet and the Underworld U.S.A. Trilogy and places them in Los Angeles during World War II as significantly younger people.
RAVEN AWARDS
Ruth & Jon Jordan, Crimespree Magazine
Jon (Jon the Crimespree Guy) and Ruth Jordan (Ruth the Crimespree gal) are fans of the mystery genre going WAY back. They met at a mystery convention in 1999, getting married exactly a year later (and yes, they WERE introduced to each other by a wonderful Scottish author).  Since becoming a couple they have taken the love of all things mystery to new levels and have each hosted a Bouchercon, Ruth in 2008 with Judy Bobalik in Baltimore and Jon in 2011 in St. Louis. They also help organize the annual Murder and Mayhem in Muskego held each November. When not running things Crimespree related they like movies, live music and travel, though these things usually end up being related to crime fiction as well. Both are on Twitter (@crimespreejon, @mrscrimespree) and on Facebook as Ruth Jordan and Crimespree Cats. Jon also has a bit of an obsession with Lego.
Kathryn Kennison, Magna Cum Murder
The Magna cum Murder weekends began 20 years ago, when Kennison and colleague Joanna Wallace, the then-associate dean of continuing education, teamed up to create the event to celebrate crime writing. Originally designed in response to alumni desires for more university-sponsored events, the pair hoped to get 65 participants and a handful of authors to sign up. Instead, 265 guests and 40 authors attended, setting the stage for future weekends which are now held in Indianapolis to accommodate the crowds.

Guests of honor at Magna have included Alexander McCall Smith, Mary Higgins Clark, Donald Westlake, Sara Paretsky, Michael Connelly, Harlan Coben, Sue Grafton, Lawrence Block, Louise Penny, Ruth Dudley Edwards, Charles Todd, Jeffrey Deaver, William Kent Krueger and John Gilstrap. It has retained its roots as a fan festival, Kennison said.
ELLERY QUEEN AWARD
Charles Ardai, Editor & Founder, Hard Case Crime
Charles Ardai is an American entrepreneur, writer, editor, and television producer. He is best known as founder and CEO of Juno, an Internet company, and founder and editor of Hard Case Crime, a line of pulp-style paperback crime novels.
Hard Case Crime brings you the best in hardboiled crime fiction, ranging from lost noir masterpieces to new novels by today's most powerful writers, featuring stunning original cover art in the grand pulp style. Authors include award-winning modern masters like Stephen King, Lawrence Block, Max Allan Collins, and Donald E. Westlake, Golden-Age pulp stars like Erle Stanley Gardner, David Goodis, and Cornell Woolrich— and newcomers we predict will be the next generation of hardboiled bestsellers.
THE SIMON & SCHUSTER – MARY HIGGINS CLARK AWARD
(Presented at MWA's Agents & Editors Party on Tuesday, April 28, 2015)
The Stranger You Know by Jane Casey (Minotaur Books)
He meets women. He gains their trust. He kills them. That's all London police detective Maeve Kerrigan knows about the man she is hunting. Three women have been strangled in their homes, and it appears to be the work of the same sadistic killer. With no sign of break-ins, every indication shows that the women let their attacker in willingly. The victims' neighbors and friends don't seem to remember anything unusual or suspicious, and Maeve is almost at a loss about how to move forward with the investigation.
Then the evidence starts to point to a shocking suspect: DCI Josh Derwent, Maeve's partner on the police force. Maeve refuses to believe he could be involved, but how well does she really know him? Secrets Derwent has long kept locked away are coming back to haunt him, and the more Maeve learns about her partner's past, the more difficult it is to dismiss him as a suspect. After all, this is hardly the first time Derwent's been accused of murder.
Jane Casey returns with her most outstanding novel yet in The Stranger You Know, a taut thriller and an intimate portrayal of complicated, all-too-human characters.