Five of my new flash fiction stories have been accepted for publication in the flash anthology, More Tales from the Blue Gonk Café.
The Blue Gonk is a café that has days in which selected storytellers come to give the customers a treat. There are five Storytelling Sessions in each such day, with the same storyteller providing a story in each session. The café is a seemingly ordinary place. There is a shelf with blue gonks (if you know what a gonk is, you might be showing your age; if you don't know what a gonk is, look it up and default to the definition that fits something that could be placed on a shelf), and there are a bunch of customers who love hearing stories told by a bunch of writers who love telling stories. The tales are generally dark, humorous and/or darkly humorous. They are all 500-word-or-less flash fiction pieces. More Tales from the Blue Gonk Café is the second anthology in a series. The first anthology caused quite a stir, continues to do so, and includes stories well-suited for reading privately or out loud.
The stories I have submitted for the new anthology are:
There is Always Hope. Some shoes are hard to fill. In There is Always Hope a demon spawn, trying to live up to the reputation of his tremendously evil parents, must dig deep into the past to make modern use of an old virtue.
Hunt and Gather. Were humans better off before civilization? That's the view of the superior aliens responsible for humanity's advancement, and they return to set things straight; a noble aim that might not hit its mark.
Market Plan. Professor Drake has discovered a vast network of instantaneous intergalactic communications. With Earth's culture in a decline of vapid consumerism, he argues humanity should reach out and seek rescue from the advanced civilizations of the universe. Not everyone agrees.

Necessity

. In Necessity, humanity is mastering the solar system, and its power requirements are readily managed. But something most people don't know has gone wrong. Horribly wrong. And one person faces a very personal decision in the face of the biggest disaster humanity has ever faced.
By the Glow of Inner Light. Ernest is a metaphysical scientist that has invented a way to distinguish truly conscious humans from "philosophical zombies." Whether the invention is a success is a matter of opinion. But be warned, your opinion may be shaped by whether you are a self-aware human, or a biological automaton.
The anthology is now closed to submissions and should enter production soon as a print anthology and e-book, with possible later production as an audiobook anthology.
About the Original Tales from the Blue Gonk Café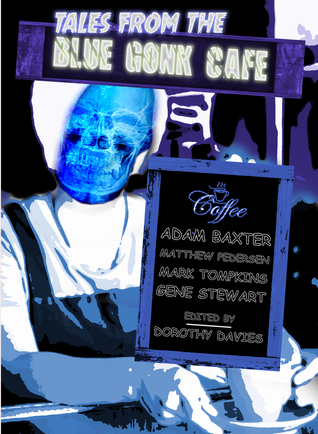 The Blue Gonk Café decided to hold a storytelling day… some of the best writers from Thirteen Press went to the sessions… the result being an anthology of almost 170 pieces of flash fiction, ranging from SF through gentle humour to outright horror. Pick up and put down or start at the beginning and read through all five storytelling sessions, either way the collection is a delight for the senses, far ranging stories covering all aspects of Life.
Tales from the Blue Gonk Café was published in February 2015 by Thirteen Press, an imprint of Horrified Press, and edited by Dorothy Davies. It was so popular it went quickly into audio production–which makes sense, since its stories are designed for readings at the Blue Gonk. Hear the Morning Menu sampler HERE.