There are as many ways to approach science fiction as there are to approach life. The beauty of both is that what's best is unknown until it's found. This makes the search for new great science fiction difficult. The more criteria you apply to your search, the less likely it is you will find the unexpected surprise that is the greatest trademark of science fiction (and life).
But still we try.
For those searching for 2014's best, here is a description (blurb) of those that received the most votes from Goodreads participants. I cut this off at 10, because number 10 recieved twice as many votes as number 11 on the list. But that's no reason not to review the entire top 20 at Goodreads, available HERE. Later this year we'll have access to other lists–Nebula nominees, Hugo nominees, and others–and we'll look those over, too.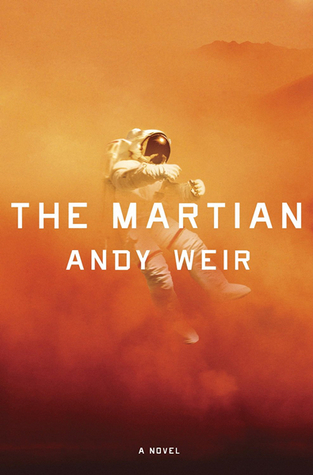 The Martian by Andy Weir (Crown). Six days ago, astronaut Mark Watney became one of the first men to walk on the surface of Mars. Now, he's sure he'll be the first man to die there. — It started with the dust storm that holed his suit and nearly killed him, and that forced his crew to leave him behind, sure he was already dead. Now he's stranded millions of miles from the nearest human being, with no way to even signal Earth that he's alive–and even if he could get word out, his food would be gone years before a rescue mission could arrive. Chances are, though, he won't have time to starve to death. The damaged machinery, unforgiving environment, or plain-old "human error" are much more likely to get him first. — But Mark isn't ready to give up yet. Drawing on his ingenuity, his engineering skills–and a relentless, dogged refusal to quit–he steadfastly confronts one seemingly insurmountable obstacle after the next. But will his resourcefulness be enough to overcome the impossible odds against him?
Lock In by John Scalzi (Tor Books). Fifteen years from now, a new virus sweeps the globe. 95% of those afflicted experience nothing worse than fever and headaches. Four percent suffer acute meningitis, creating the largest medical crisis in history. And one percent find themselves "locked in"—fully awake and aware, but unable to move or respond to stimulus. — One per cent doesn't seem like a lot. But in the United States, that's 1.7 million people "locked in"…including the President's wife and daughter. — Spurred by grief and the sheer magnitude of the suffering, America undertakes a massive scientific initiative. Nothing can restore the ability to control their own bodies to the locked in. But then two new technologies emerge. One is a virtual-reality environment, "The Agora," in which the locked-in can interact with other humans, both locked-in and not. The other is the discovery that a few rare individuals have brains that are receptive to being controlled by others, meaning that from time to time, those who are locked in can "ride" these people and use their bodies as if they were their own. — This skill is quickly regulated, licensed, bonded, and controlled. Nothing can go wrong. Certainly nobody would be tempted to misuse it, for murder, for political power, or worse…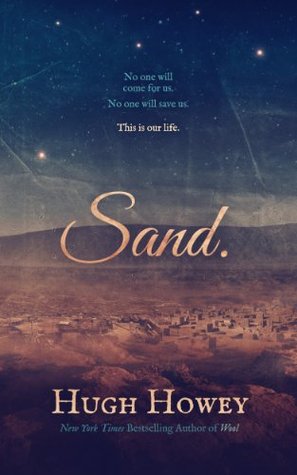 Sand by Hugh Howey (Broad Reach). The old world is buried. A new one has been forged atop the shifting dunes. Here in this land of howling wind and infernal sand, four siblings find themselves scattered and lost. — Palmer has never been the same since his father walked out twelve years ago. His elder sister, Vic, is trying to run away from the past; his younger brothers, Connor and Rob, are risking their lives to embrace it. His mother, left with nothing but anger, is just trying to forget. — Palmer wants to prove his worth, not only to his family, but to himself. And in the barren, dune-covered landscape of his home, there is only one way to earn respect: sand-diving. Plunging deep below the desert floor in search of relics and scraps of the old world. He is about to embark on the most dangerous dive of his young life, aiming to become the first to discover the rumoured city below. — Deep within the sand lies the key to bringing his family together – and tearing their world apart.
The First Fifteen Lives of Harry August by Claire North (Redhook). The extraordinary journey of one unforgettable character – a story of friendship and betrayal, loyalty and redemption, love and loneliness and the inevitable march of time. — Harry August is on his deathbed. Again. — No matter what he does or the decisions he makes, when death comes, Harry always returns to where he began, a child with all the knowledge of a life he has already lived a dozen times before. Nothing ever changes. — Until now. — As Harry nears the end of his eleventh life, a little girl appears at his bedside. 'I nearly missed you, Doctor August,' she says. 'I need to send a message.' — This is the story of what Harry does next, and what he did before, and how he tries to save a past he cannot change and a future he cannot allow.
The Long Mars by Terry Pratchet, Stephen Baxter (Doubleday). The third novel in Terry Pratchett and Stephen Baxter's "Long Earth" series, which Io9 calls "a brilliant science fiction collaboration." — 2040-2045: In the years after the cataclysmic Yellowstone eruption there is massive economic dislocation as populations flee Datum Earth to myriad Long Earth worlds. Sally, Joshua, and Lobsang are all involved in this perilous rescue work when, out of the blue, Sally is contacted by her long-vanished father and inventor of the original Stepper device, Willis Linsay. He tells her he is planning a fantastic voyage across the Long Mars and wants her to accompany him. But Sally soon learns that Willis has an ulterior motive for his request. . . . — Meanwhile U. S. Navy Commander Maggie Kauffman has embarked on an incredible journey of her own, leading an expedition to the outer limits of the far Long Earth. — For Joshua, the crisis he faces is much closer to home. He becomes embroiled in the plight of the Next: the super-bright post-humans who are beginning to emerge from their "long childhood" in the community called Happy Landings, located deep in the Long Earth. Ignorance and fear have caused "normal" human society to turn against the Next. A dramatic showdown seems inevitable. . . .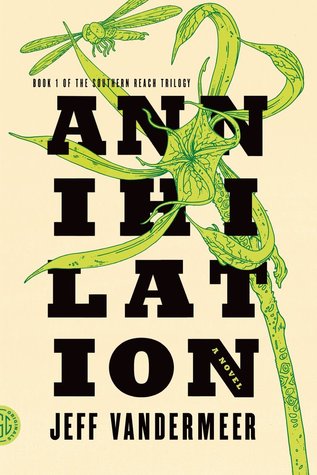 Annihilation by Jeff VanderMeer (FSG Originals). Area X has been cut off from the rest of the continent for decades. Nature has reclaimed the last vestiges of human civilization. The first expedition returned with reports of a pristine, Edenic landscape; all the members of the second expedition committed suicide; the third expedition died in a hail of gunfire as its members turned on one another; the members of the eleventh expedition returned as shadows of their former selves, and within months of their return, all had died of aggressive cancer. — This is the twelfth expedition. — Their group is made up of four women: an anthropologist; a surveyor; a psychologist, the de facto leader; and our narrator, a biologist. Their mission is to map the terrain and collect specimens; to record all their observations, scientific and otherwise, of their surroundings and of one another; and, above all, to avoid being contaminated by Area X itself. — They arrive expecting the unexpected, and Area X delivers—they discover a massive topographic anomaly and life forms that surpass understanding—but it's the surprises that came across the border with them, and the secrets the expedition members are keeping from one another, that change everything.
Apolonia by Jamie McGuire (Jamie McGuire LLC). "They'd killed me, but I survived." — Three years after Rory Riordan foiled her own murder, she still trusts no one—not Dr. Z, the eccentric college professor who has taken her under his wing; not Benji, the endearing, attractive classmate who insists on following her around; and certainly not Cy, the beautifully dark and mysterious boy who sits in the first row in Dr. Z's Astrobiology class and asks far too many questions. — When Rory witnesses Cy being abducted by soldiers in the middle of the night, she finds herself immersed in a world that holds more secrets than she could imagine, even darker secrets than her own. — From #1 New York Times Bestseller Jamie McGuire, experience the perfect combination of her bestselling books Providence and Beautiful Disaster. This New Adult Sci-Fi Romance is an action-packed, whiplash-inducing roller-coaster ride. Page after page, this unpredictable, dark, and sexy nail-biter will keep readers guessing until the very end!
Influx by Daniel Suarez (Dutton Adult). Are smart phones really humanity's most significant innovation since the moon landings? Or can something else explain why the bold visions of the 20th century–fusion power, genetic enhancements, artificial intelligence, cures for common disease, extended human life, and a host of other world-changing advances–have remained beyond our grasp? Why has the high-tech future that seemed imminent in the 1960's failed to arrive? — Perhaps it did arrive…but only for a select few. — Particle physicist Jon Grady is ecstatic when his team achieves what they've been working toward for years: a device that can reflect gravity. Their research will revolutionize the field of physics–the crowning achievement of a career. Grady expects widespread acclaim for his entire team. The Nobel. Instead, his lab is locked down by a shadowy organization whose mission is to prevent at all costs the social upheaval sudden technological advances bring. This Bureau of Technology Control uses the advanced technologies they have harvested over the decades to fulfill their mission. — They are living in our future. — Presented with the opportunity to join the BTC and improve his own technology in secret, Grady balks, and is instead thrown into a nightmarish high-tech prison built to hold rebellious geniuses like himself. With so many great intellects confined together, can Grady and his fellow prisoners conceive of a way to usher humanity out of its artificial dark age? — And when they do, is it possible to defeat an enemy that wields a technological advantage half a century in the making?
California by Edan Lepucki (Little, Brown and Company). The world Cal and Frida have always known is gone, and they've left the crumbling city of Los Angeles far behind them. They now live in a shack in the wilderness, working side-by-side to make their days tolerable despite the isolation and hardships they face. Consumed by fear of the future and mourning for a past they can't reclaim, they seek comfort and solace in one other. But the tentative existence they've built for themselves is thrown into doubt when Frida finds out she's pregnant. — Terrified of the unknown but unsure of their ability to raise a child alone, Cal and Frida set out for the nearest settlement, a guarded and paranoid community with dark secrets. These people can offer them security, but Cal and Frida soon realize this community poses its own dangers. In this unfamiliar world, where everything and everyone can be perceived as a threat, the couple must quickly decide whom to trust. — A gripping and provocative debut novel by a stunning new talent,California imagines a frighteningly realistic near future, in which clashes between mankind's dark nature and irrepressible resilience force us to question how far we will go to protect the ones we love.
Earth Awakens by Orson Scott Card, Aaron Johnston (Tor Books). Nearly 100 years before the events of Orson Scott Card's bestselling novel Ender's Game, humans were just beginning to step off Earth and out into the Solar System. A thin web of ships in both asteroid belts; a few stations; a corporate settlement on Luna. No one had seen any sign of other space-faring races; everyone expected that First Contact, if it came, would happen in the future, in the empty reaches between the stars. Then a young navigator on a distant mining ship saw something moving too fast, heading directly for our sun. — When the alien ship screamed through the solar system, it disrupted communications between the far-flung human mining ships and supply stations, and between them and Earth. So Earth and Luna were unaware that they had been invaded until the ship pulled into Earth orbit, and began landing terra-forming crews in China. Politics and pride slowed the response on Earth, and on Luna, corporate power struggles seemed more urgent than distant deaths. But there are a few men and women who see that if Earth doesn't wake up and pull together, the planet could be lost.