The World Science Fiction Society announced last night the winners of the 2015 Hugo Awards for best 2014 works of science fiction or fantasy in specified categories. Congratulations to the winners for their outstanding work and achievement. Here are the winners, with a description of some of the winning works.
BEST NOVEL
The Three Body Problem
Cixin Liu
Ken Liu translator
Tor Books
Set against the backdrop of China's Cultural Revolution, a secret military project sends signals into space to establish contact with aliens. An alien civilization on the brink of destruction captures the signal and plans to invade Earth.
Meanwhile, on Earth, different camps start forming, planning to either welcome the superior beings and help them take over a world seen as corrupt, or to fight against the invasion. The result is a science fiction masterpiece of enormous scope and vision.
The Three Body Problem was originally published in Chinese in 2008, and has received rave reviews in English speaking markets since its translation and publication in English in 2014.
BEST NOVELETTE
"The Day the World Turned Upside Down"
Thomas Olde Heuvelt
Lia Belt translator
Lightspeed, 04-2014
That day, the world turned upside down. We didn't know why it happened. Some of us wondered whether it was our fault. Whether we had been praying to the wrong gods, or whether we had said the wrong things. But it wasn't like that—the world simply turned upside down.
BEST GRAPHIC STORY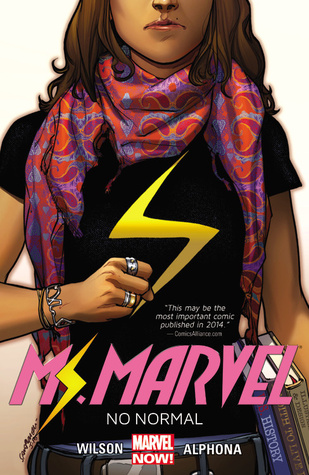 Ms. Marvel Volume 1: No Normal
written by G. Willow Wilson
illustrated by Adrian Alphona and Jake Wyatt
Marvel Comics
Kamala Khan is an ordinary girl from Jersey City — until she's suddenly empowered with extraordinary gifts. But who truly is the new Ms. Marvel? Teenager? Muslim? Inhuman? Find out as she takes the Marvel Universe by storm! When Kamala discovers the dangers of her newfound powers, she unlocks a secret behind them, as well.
Is Kamala ready to wield these immense new gifts? Or will the weight of the legacy before her be too much to bear? Kamala has no idea, either. But she's comin' for you, Jersey!
BEST DRAMATIC PRESENTATION, LONG FORM
Guardians of the Galaxy
written by James Gunn and Nicole Perlman
directed by James Gunn
Marvel Studios, Moving Picture Company
[youtube http://www.youtube.com/watch?v=2LIQ2-PZBC8%5D
Trailer
BEST DRAMATIC PRESENTATION, SHORT FORM
Orphan Black: "By Means Which Have Never Yet Been Tried"
written by Graham Manson
directed by John Fawcett
Temple Street Productions, Space/BBC America
After the successful abduction of Kira, Sarah prepares to surrender to Rachel and the Dyad Group; but the Clone Club has other ideas as they band together to pull off the ultimate rescue.
Orphan Black is a Canadian series starring Tatiana Maslany as several identical people who are, in fact, clones. The series focuses on Sarah Manning, a woman who assumes the identity of one of her clones, Elizabeth Childs, after witnessing Childs' suicide.
BEST PROFESSIONAL ARTIST
BEST SEMIPROZINE
Lightspeed Magazine, edited by John Joseph Adams, Stefan Rudnicki, Rich Horton, Wendy N. Wagner, and Christie Yant
BEST FANZINE
Journey Planet, edited by James Bacon, Christopher J Garcia, Colin Harris, Alissa McKersie, and Helen J. Montgomery
BEST FANCAST
Galactic Suburbia Podcast, Alisa Krasnostein, Alexandra Pierce, Tansy Rayner Roberts (Presenters) and Andrew Finch (Producer)
BEST FAN WRITER
BEST FAN ARTIST
JOHN W. CAMPBELL AWARD FOR BEST NEW WRITER (for the best new professional science fiction or fantasy writer of 2012 or 2013, sponsored by Dell Magazines–not a Hugo Award, but presented with the Hugo Awards)
The winners were announced August 22 at the INB Performing Arts Center in Spokane, Washington. David Gerrold and Tananarive Due hosted the ceremony. The 2015 Hugo trophy base was designed by Matthew Dockrey. The full order of finish in each category and links to the nomination and voting details are available on the 2015 Hugo Awards page.
Related articles